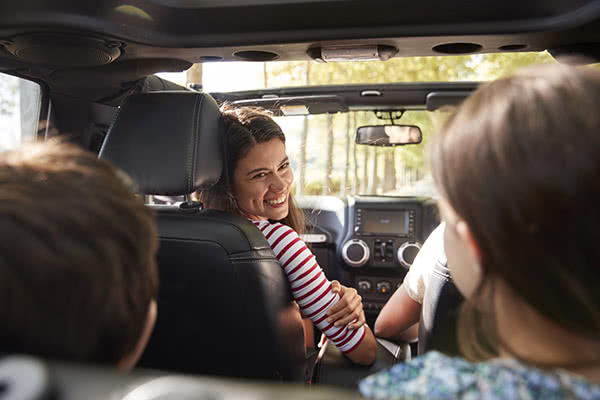 Here is Part Two of our top ten tips for making sure your summer road trip is tons of fun without costing tons of cash. In case you missed it, you can read Part One of the series here.
6) Avoid Toll Roads, Enjoy the Rural Alternatives
If your area is surrounded by toll roads and cross-state toll freeways, don't take them whenever possible. Reduce your road trip costs by knowing when it's better to skip the traffic arteries and take the rural country highway routes instead. Avoiding toll roads often has the benefit of much lower traffic concentration and the beauty of the rural regions in your state. This can make driving much more enjoyable for you as the parent, and you can play "Cows on my side" with your kids as soon as you're out of the city, dodging the busier toll roads.
7) Plan to Stop at Specific Rest Stops
Rest stops are a key resource for families on road trips. They provide safe clean bathroom stops, water fountains, picnic tables, and big grassy areas for your kids to run around and work out some of that wiggle-energy. Of course, rest stops can also be hard to find. You may have noticed that Google Maps alone is abysmal at identifying free state-provided rest stops along your route, even though the best plan is to know exactly which rest stops you plan to stop at on the trip.
Fortunately, there's a web app that will help you find every state rest stop in the country with some info about what you'll find there. Head over to http://restareas.appspot.com/ and zoom in on your route to find any rest areas in the region. You can even plan your route based on hitting these grassy bathroom and lunch stops.
8) Don't Let Gas or Bathroom Stops Become Snack Stops
The other reason you want to build your trip around state rest stops is that gas stops can all-too-quickly become spending sprees. If your kids get out to hit the bathrooms at a gas station, they will walk past the candy and soda. The gas stations plan for this. Instead, make gas a lightning stop where no-one gets out of the car. And in trade, your kids get a half-hour to play at the next rest stop. Because playing in the grass is free, and Doritos are not.
9) Plan Hotel or Camp Stops Ahead of Time
If your road trip is long and you might stop for the night, plan for it. Don't leave it to chance; know where you're stopping and how much you're ready to pay for every extra day of the trip. This is the best way to avoid costly impulse hotel rooms or campsites when you start to get tired after dark, and your kids get cranky.
Instead, you can say, "Our hotel is only an hour away. Then we can all stretch out and watch some TV before bed." and you won't risk going over-budget by picking the first hotel you see.
10) Restock At Rural Grocery Stores
Finally, remember that grocery stores are the number one place for affordable family food. Even on road trips. Little country grocery stores along the way often have great prices, fresh fruit, and a kid-friendly atmosphere for a quick breakfast shopping trip. Instead of stopping at the golden arches for overpriced biscuits, pick up a $5 in bagels and cream cheese, or even a box of microwavable breakfast from a local grocery store.
You can stock up on snacks, picnic lunch supplies, and even provide that satisfying "road trip treat" without paying convenience store prices.
Summer road trips are a tradition and/or necessity for many families across the states. But your budget might not be ready to turn this into an extended cross-country vacation. If you're taking your kids on the road, these ten tips are key to keeping costs low while also having a great time.