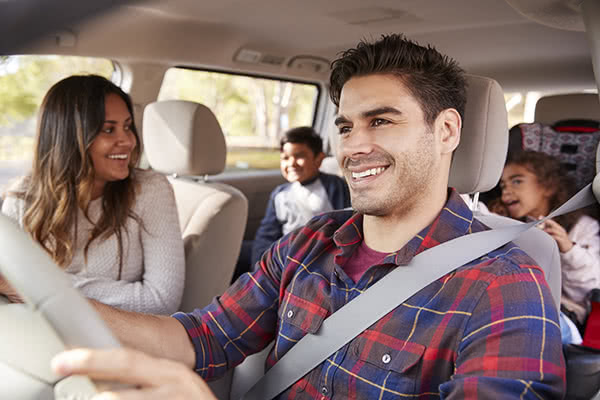 Summer is the perfect time to take your family on a road trip. Maybe you're headed to grandma's house, your kid's distant summer camp, or your family's annual trek deep into the woods. Whatever reason you and your kids take to the open road, it's also worth considering how to keep that road trip budget down.
Road tripping is usually the most affordable way to travel, but only if you know how the game is played. Too many convenience-store stops or high-priced hotels can quickly inflate your costs beyond the planned budget. But with the right tips and tricks, you can easily cut the cost of your road trip to a fraction just by knowing how to avoid extra costs along the way.
Here are our top ten tips for making sure your summer road trip is tons of fun without costing tons of cash:
1) Pack Your Snacks Bought in Bulk
Convenience store snacks are one of the biggest "incalculable costs" of road tripping. Especially with kids. The best way to cut your snack budget in half (or more!) is to buy snacks in bulk and baggie them up before the trip. Instead of $3 snack-packs of chips on the road, buy a family-sized bag of potato chips, crackers, pretzels, or whatever your family likes best. Then separate it into single-serving tupperware containers or plastic baggies to simulate convenience-store snacking along the way.
Cereal, chips, dried fruit, homemade or bulk trail mix are all great options for DIY road trip snacks. Don't forget some protein or veggies and dip for between-meal nutrients.
2) Cooler Shocks > Bags of Ice
Buying bags of ice on the road is the traditional way to keep your cooler cold. But this leads to puddles, ice-dumping, and a lot of waste. Instead, turn to modern consumer-grade chemistry: Cooler shocks are a type of ice pack that you prepare before a trip and stay cold for 12+ hours inside your car's cooler. Especially when used in clusters.
A single pack of cooler shocks can keep your road trip cooler cold the entire trip and can be 'recharged' in a hotel mini-fridge (or under a pile of ice) for multi-day trips while saving you a bundle on ice-stops.
3) Misting Hand Fans (& Backup Batteries)
Every parent knows that running the AC is both necessary and one of the major costs of the trip. You might be tempted to turn the AC off or set it to a toasty-but-survivable 75. Unfortunately, kids in the backseat have a harder time staying cool without direct access to the vents.
The answer? Little hand-held fans like you often see used at theme parks or the beach. Head to the dollar store and pick up a handful of these little fans for your kids to use (plus some extra batteries). This will help keep the kids cool and give them something to play with on the road. The kind with a little water reservoir for misting is best for providing all-trip cooling without cranking the AC.
4) Backseat Window Shades
Another way to help your kids (and the whole car) stay cool without cranking the AC is window shades. Reducing the amount of direct sunlight that pours into the car can make a real difference for how hot it gets during the trip. Plus, the added shade will help your kids quiet down and nap for a good portion of the ride.
The best kind of shades is the kind your kids can put up or take down on their own so that they can decide whether to site-see or rest in the shade.
5) Over-Inflate Your Tires
Soft tires stick to the road, providing better traction and shock absorption. But slightly over-inflated tires are actually fantastic for gas mileage because they take less forward-momentum to roll smoothly forward. It'll be a slightly bumpier ride, and you'll want to watch out for potholes and road obstacles, but a little extra air in the tires can save you a serious bundle on gas mileage throughout a long trip.
You'll go longer on a single tank of gas, reducing both the gas you use and the number of times you have to stop.